English
At the bottom of the heel of Italy there is a coastal road leading from the town of Otranto to the town of Santa Maria di Leuca.
   A 60 km route, overlooking the sea, from which - in the days of north wind - it is possible to see mountains of Albania and the first Greek island.
   Our customers cross it and are amazed: along the way there is a succession of small bays, caves, villages, noble villas and peasant architectures.
   Our dream is to transform this road into a long cycle path: "
The bicycle highway
".
   But it is not a dream that we want to remain so.
   We have long started planting seeds. For many years
we have organised great cycle rides
, involving hundreds of people, dozens of associations and
The Natural Park Otranto - Leuca
 .
   We all cycled together, from Otranto to Leuca, and from Leuca to Otranto, demanding more space for bicycles and for a slower and more sustainable tourism.
   We know that it is not always easy to get what you want and that local administrations have to meet other needs as well. For this reason, we have asked that, until technical solutions are found to make it completely cycleable, to establish a limit of 30km/h on the whole road.  
 The seeds are starting to sprout
! In 2020, the Municipality of Otranto approved a project to create a
cycle path
in the first 10 km of that road, to do so a lane will be subtracted from cars.
"
Utopia is there on the horizon. I take two steps closer and she takes two steps away. I walk 10 steps and the horizon runs 10 steps. For as much as I walk I will never reach it. What is utopia for? It is for this: so that I never stop walking
"(Eduardo Galeano).
Immagine principale: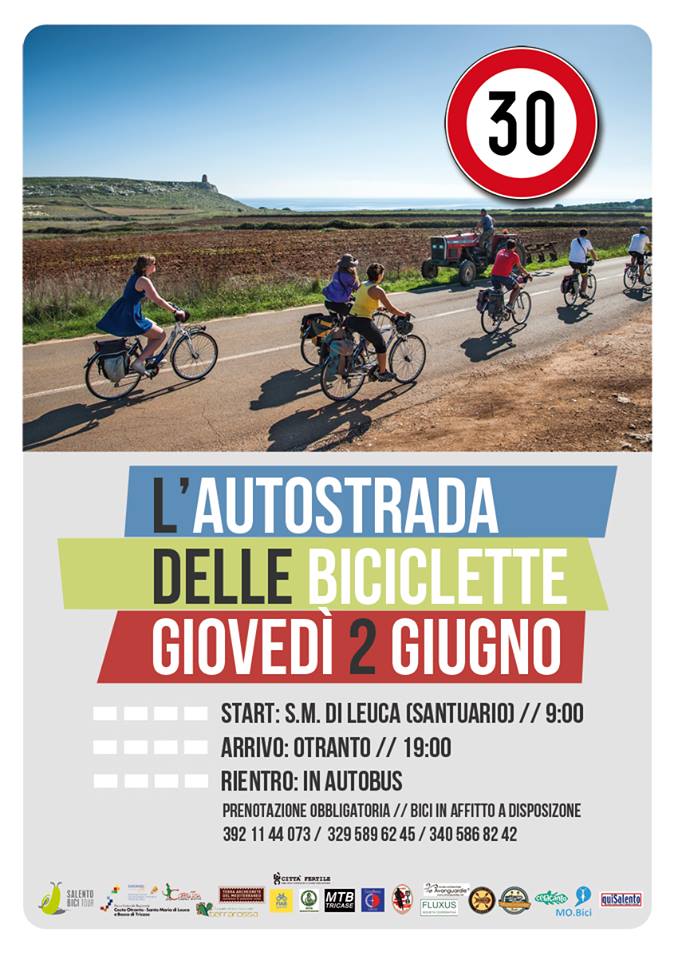 Galleria: